This is my first time visiting Tokyo in the month of April, my fourth visit overall to the country. April is the busy international and domestic travel season with the stunning Cherry Blossom trees blooming all across Japan at the start of Spring.
In Shinjuku, the epicenter for Tokyo attractions, you can expect long lines at popular tourist spots like the Shinjuku Gyoen National Garden and the Tokyo Metropolitan Government Building Observatory. If you are flying into Narita International Airport it takes around eighty minutes by the Airport Express Train NEX or the Airport Limousine bus to get into Shinjuku city. If flying into Hanada Airport, expect a 50% decrease in travel times.
[cmtoc_table_of_contents]
Hanazono Shrine
This delightful shrine wasn't on my list of places to visit, but on walking past on my way to Shinjuku Golden Gai I was a taken back by the cool temple entrance. I just had to stop. It was at sunset and with the beautiful cherry blossom trees next to the shrine being lit from above made for a great photo opportunity and rest stop.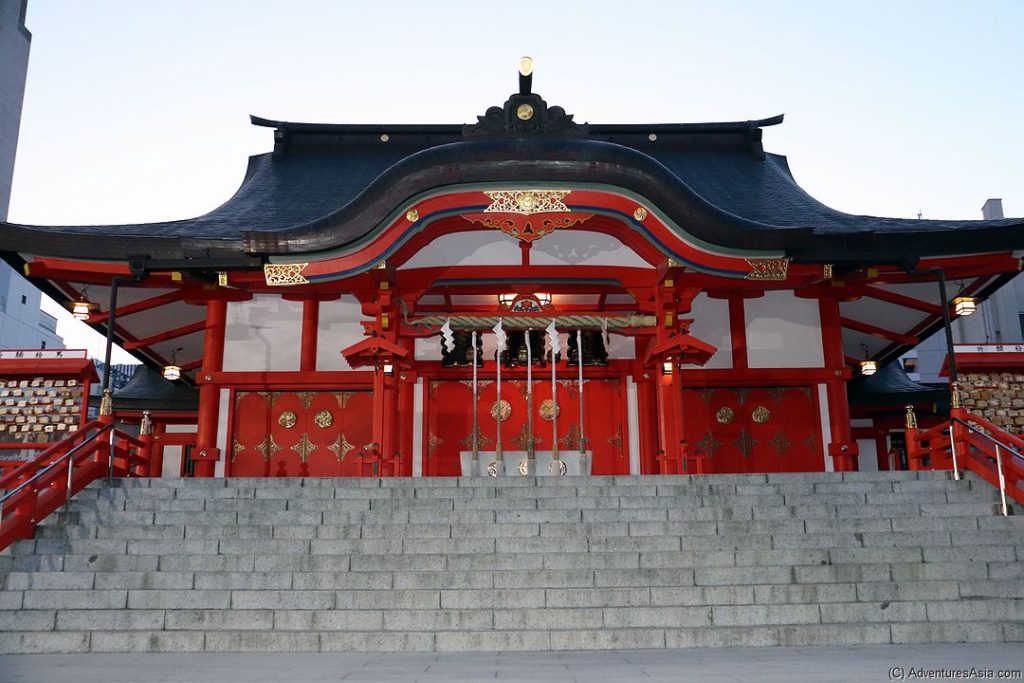 Founded in the mid 17th century by the Hanazono family, this is actually one of the most historical shrines in all of Japan. The shrine is dedicated to the god of fertility and worldly success. Interesting Fact: this shrine is popular by Tokyo businessman to pray for their new ventures to succeed.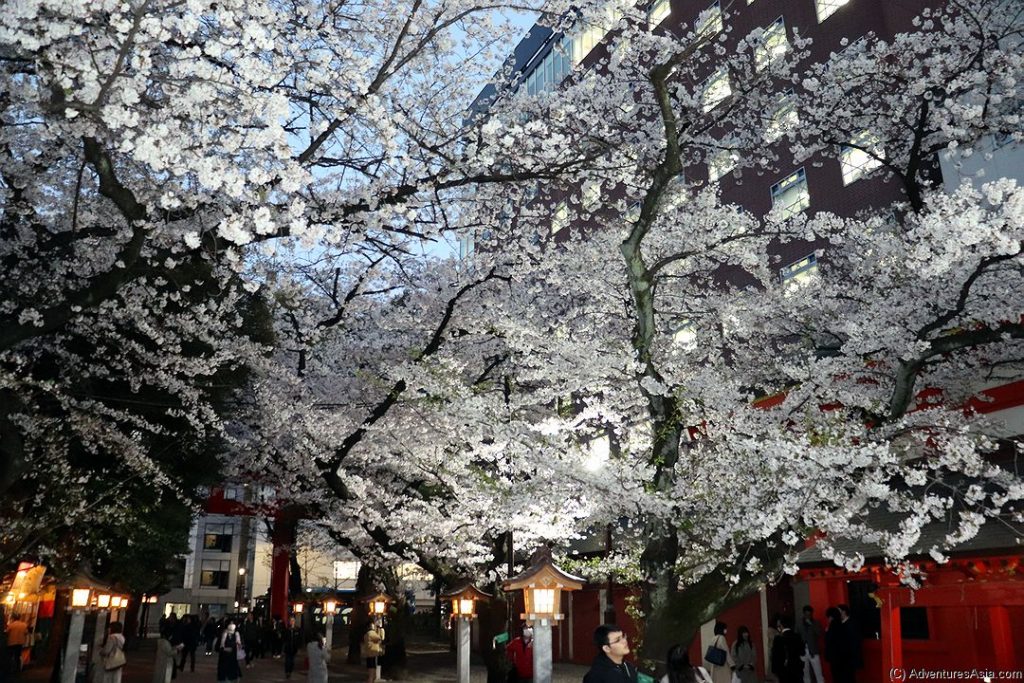 Tokyo Metropolitan Government Building Observatory
This dual tower government building is located in Shinjuku west about ten minutes walk from Shinjuku Station. This time the northern observation tower was closed for maintenance leaving the southern observation open which meant a thirty-minute wait to go up to the 45th floor.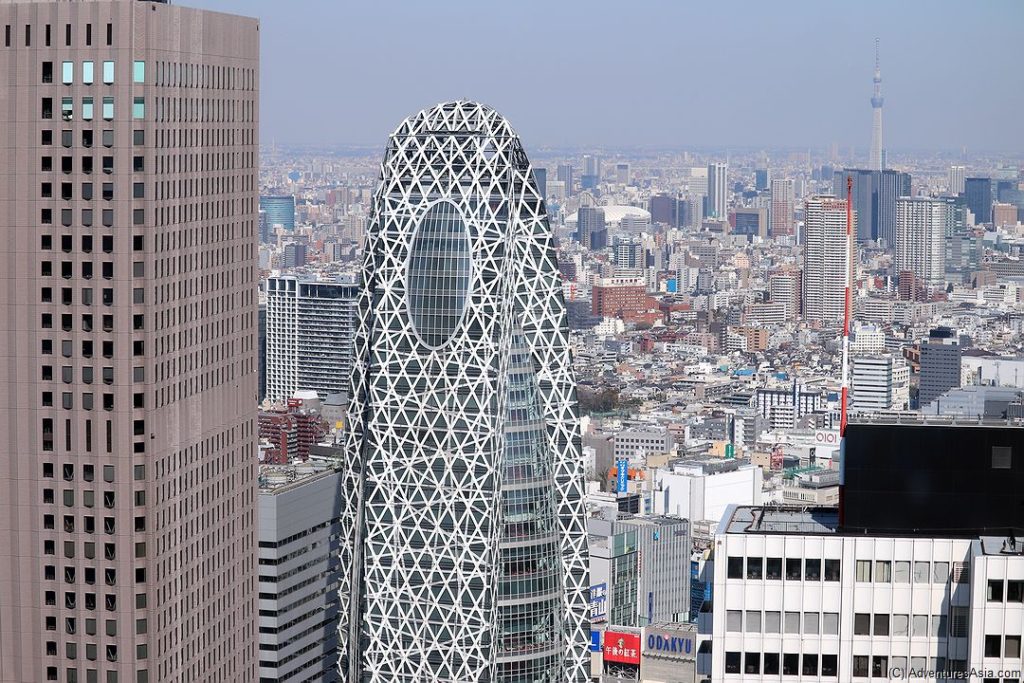 At a height of 202 meters, you will find large floor to ceiling windows peering out around the floor. Contained on this top floor are two large souvenirs shops and a restaurant available for lunch and high tea. On a good day you can see Mount Fuji, but today it was a little hazy looking across to the mountains.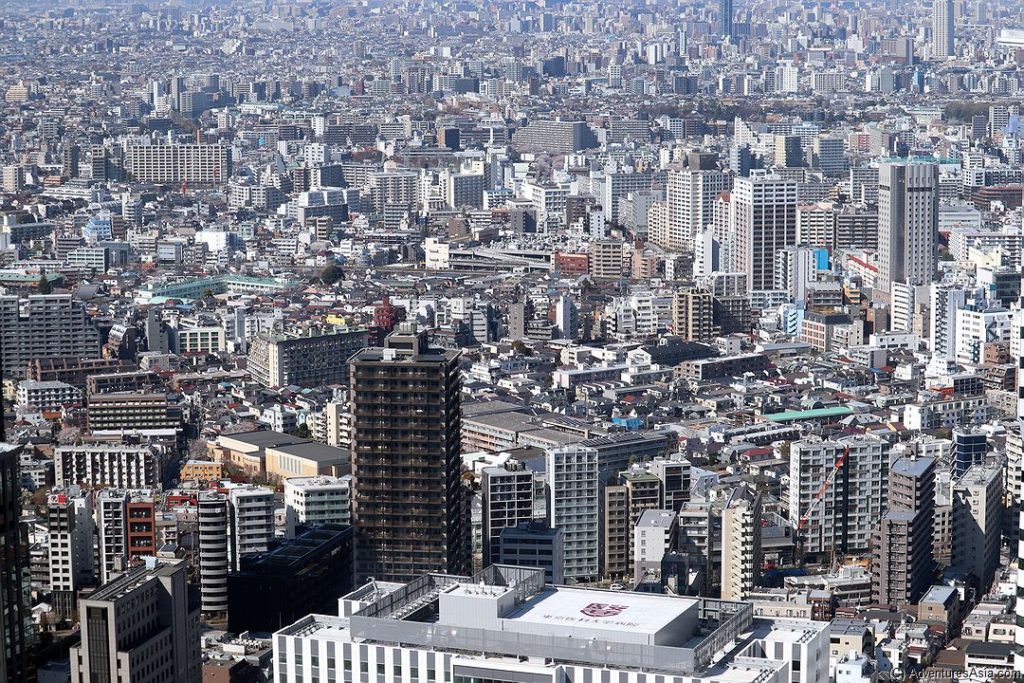 Shinjuku Gyoen National Garden
Extremely busy during the Cherry Blossom season with long queues to get into, is this beautiful and relaxing 143-acre garden. With large multiple lawned areas, it is just perfect for a picnic. Be sure to take time to visit the greenhouse and various ponds. This large garden was finally completed in 1772 during the Edo period by Lord Naito.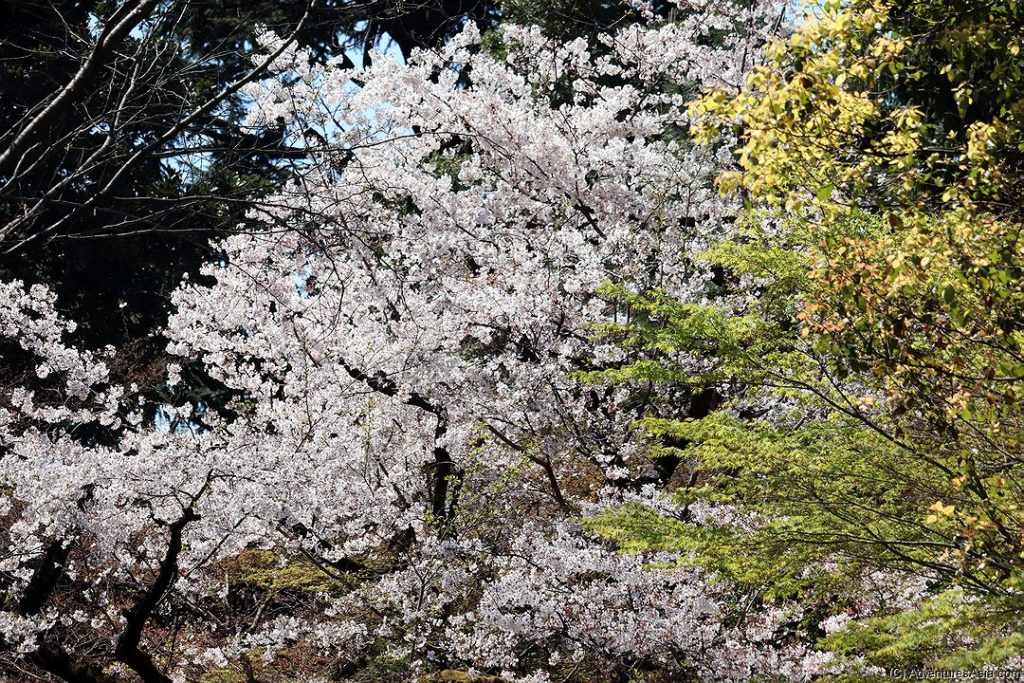 'Hanami' is the traditional national Japanese custom for enjoying the beauty of flowers especially the cherry blossoms. Please note opening times are from 10:30 am daily from 13 April 2019. In all of Tokyo, this garden would be the number one Hanami viewing location in the city.
Shinjuku West
Shinjuku West is very busy from sunset to late in the night with office workers and tourists visiting the small and very small restaurants and bars. This is also the main electronics hub for Tokyo with like a dozen multistory businesses such as Bic Camera and Labi.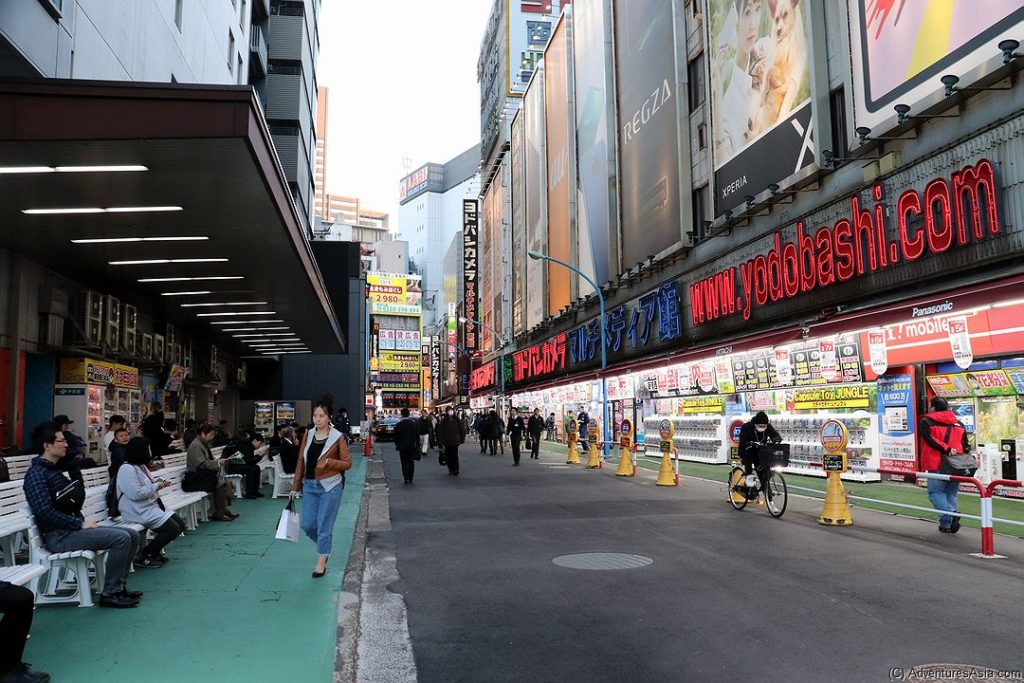 If you're into photography this location is a must visit. Food variety is great with various Japanese restaurants – both small and large – plus other cuisines such as Indian, Turkish and Chinese. On a budget? Check out the amazing fresh Japanese sandwiches at the Family Marts and 7-11's. Expect to pay 200-300 yen for a delicious meal.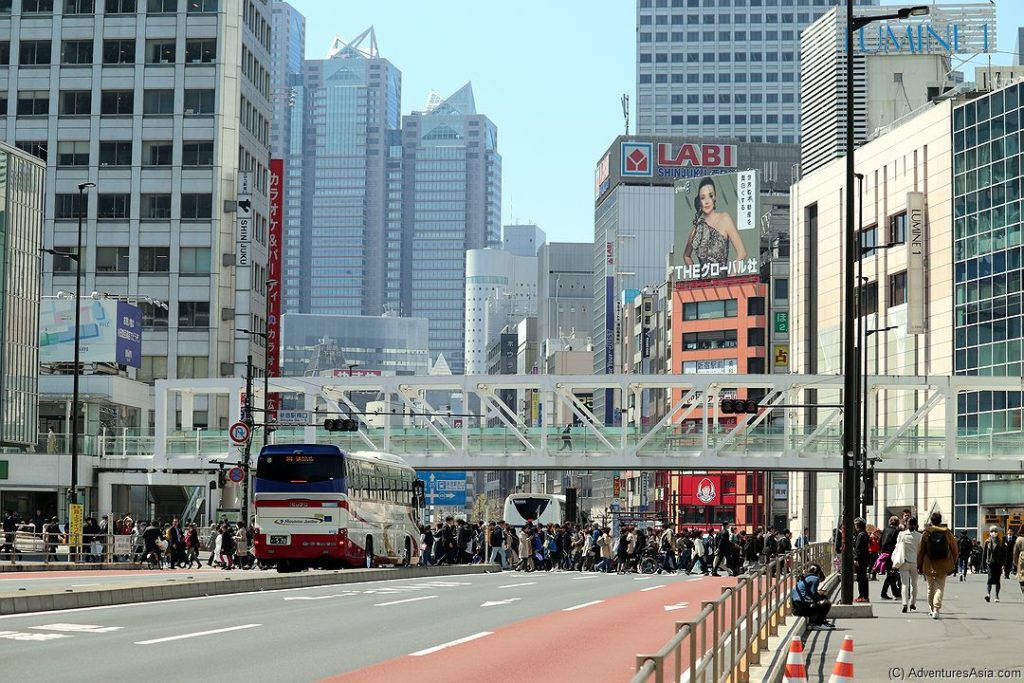 Shinjuku East
To the east are the main entrances to Shinjuku train station and access to large shopping centers and office high rises. The main shopping centers include Lumine 1, 2 and EST plus Isetan and Takashimaya.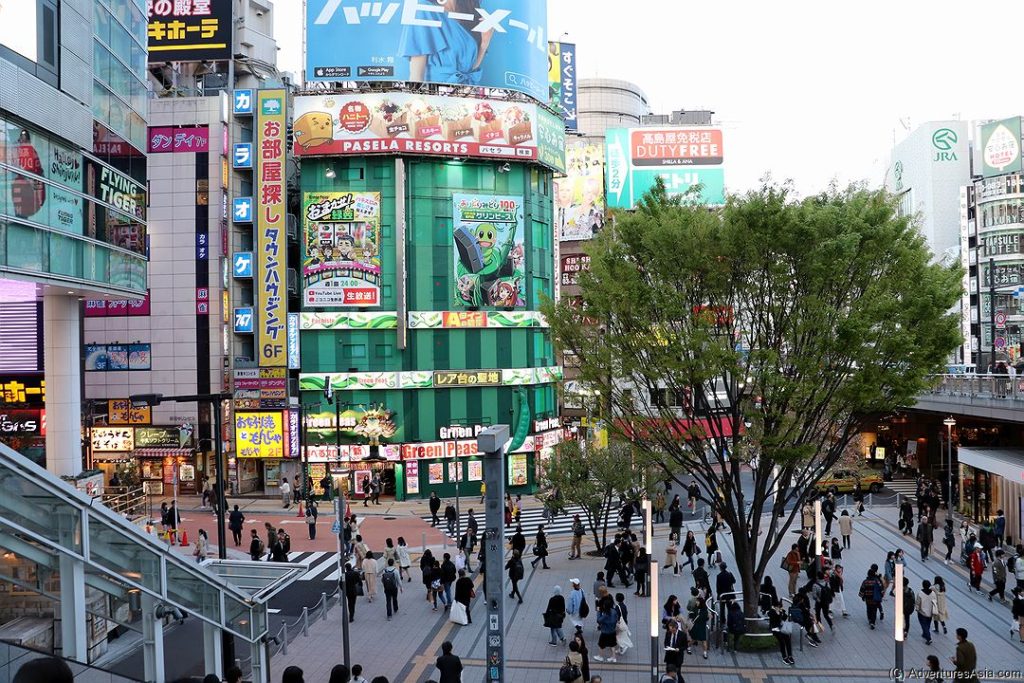 In this area, you will also find the Shinjuku Gyoen National Garden, Hanazono Shrine, Golden Gai and Kabukicho precincts. Looking for a refreshment? There are scores of cafes and small Japanese restaurants to indulge your taste buds.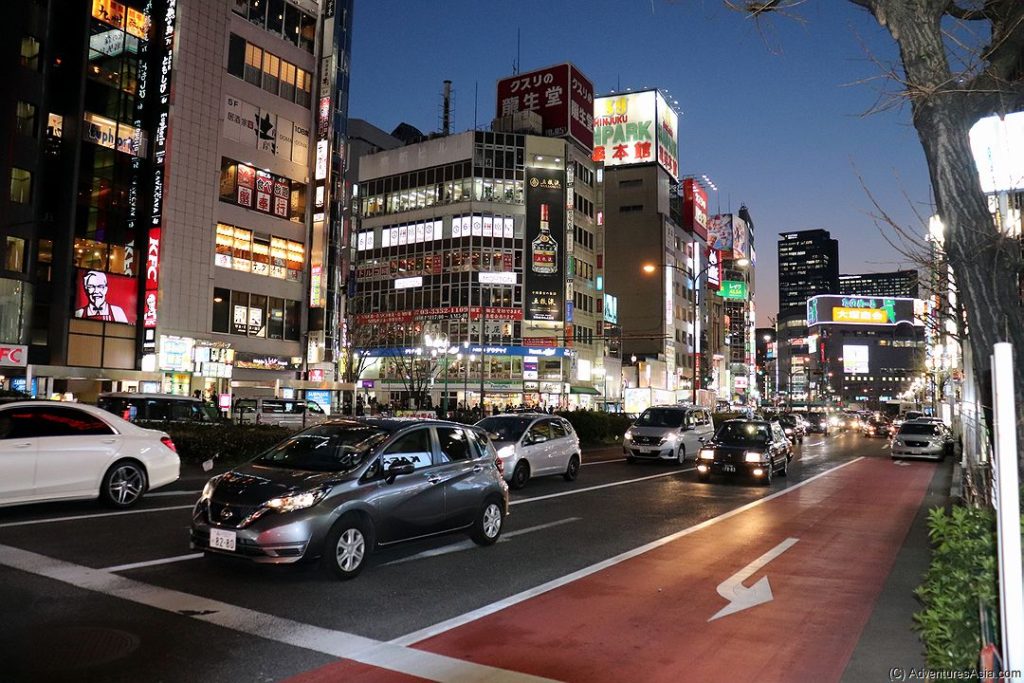 Kabukicho
Looking for a long night out partying? Head to Kabukicho red-light district! Known as the town that doesn't sleep, it is jam-packed with restaurants, shops, love hotels, clubs, and small bars. From Shinjuku station head northeast and enjoying a leisurely ten-minute walk.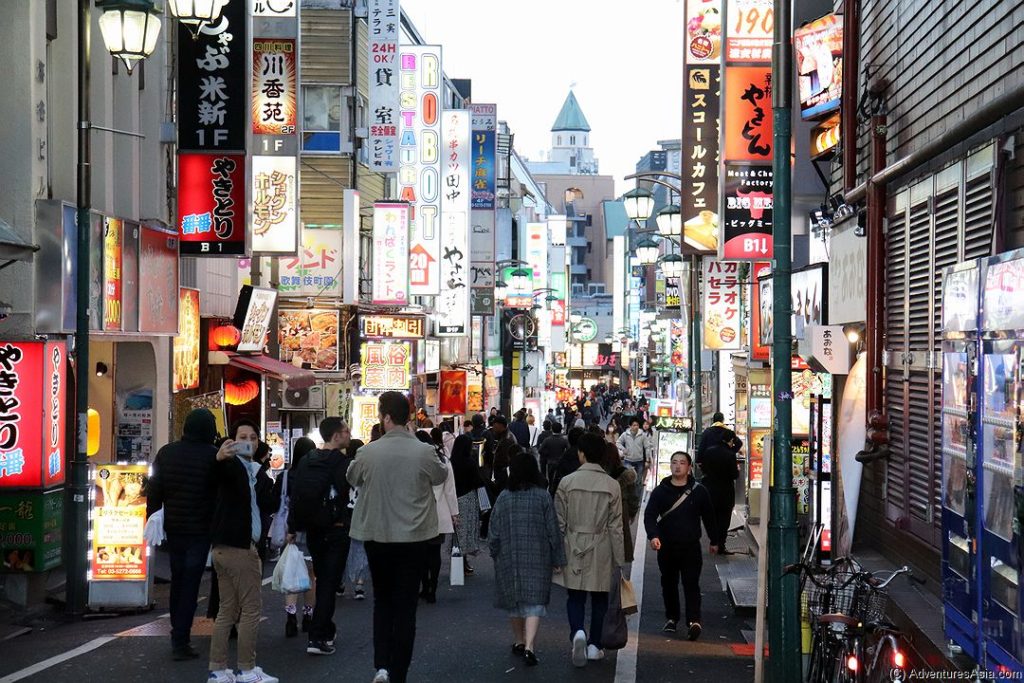 The famous Robot Resturant is located in this district. It is hard to believe but the area was originally a swamp. It was called Tsunohazu. Flattened during World War II from the bombing of Tokyo by allied pilots, the area was rebuilt quickly and was renamed Kabukicho.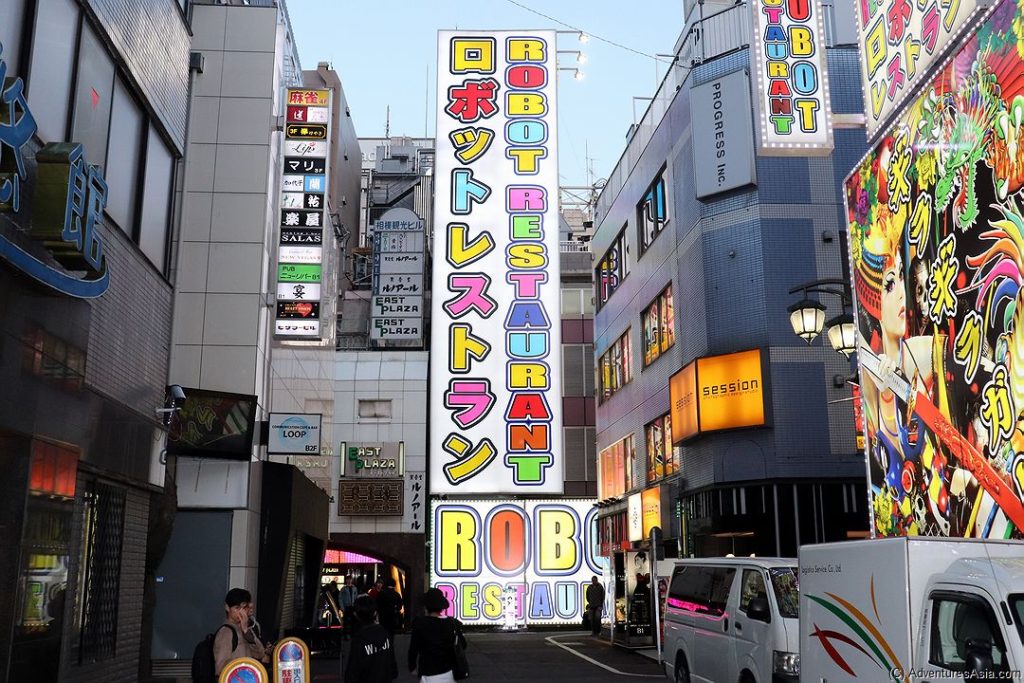 Harajuku
Always packed with a great atmosphere is the famous Harajuku area, namely, Takeshita Street.  You will find many small shops selling souvenirs to amazing crepes. The best time to visit is on non-work or school days. That is the weekends and holidays. This way you will get to see the Harajuku girls in their Japanese hentai style cute outfits.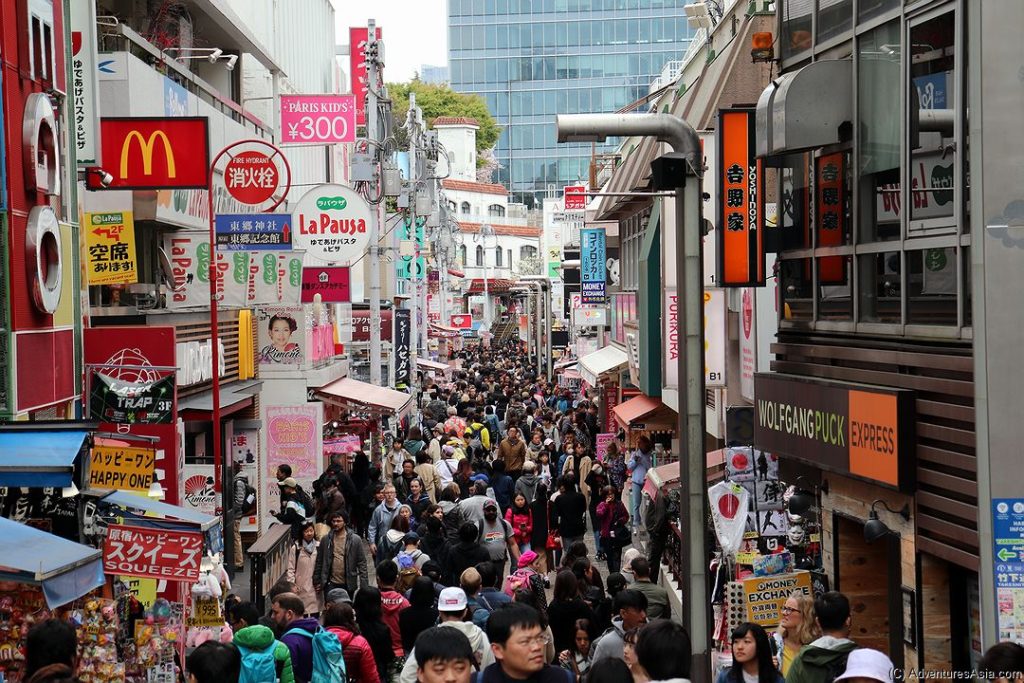 Harajuku station was built in 1906 and after World War II, shops were built nearby to cater for US military forces. This is why you will see a strong presence of both western and European styling with the Harajuku girls.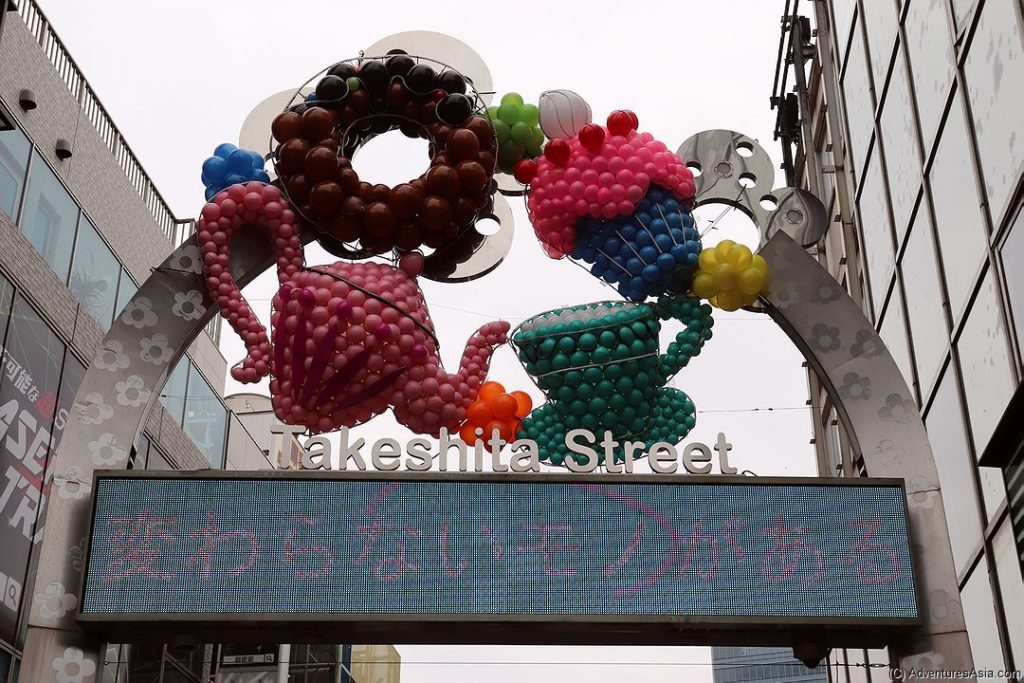 Shibuya
Including the famous Shibuya Crossing – a large multi-directional crossing – you will find mainly shopping centers and offices in this area. Shibuya has more recently become an entertainment hotspot with pubs and clubs catering for all music types and income levels.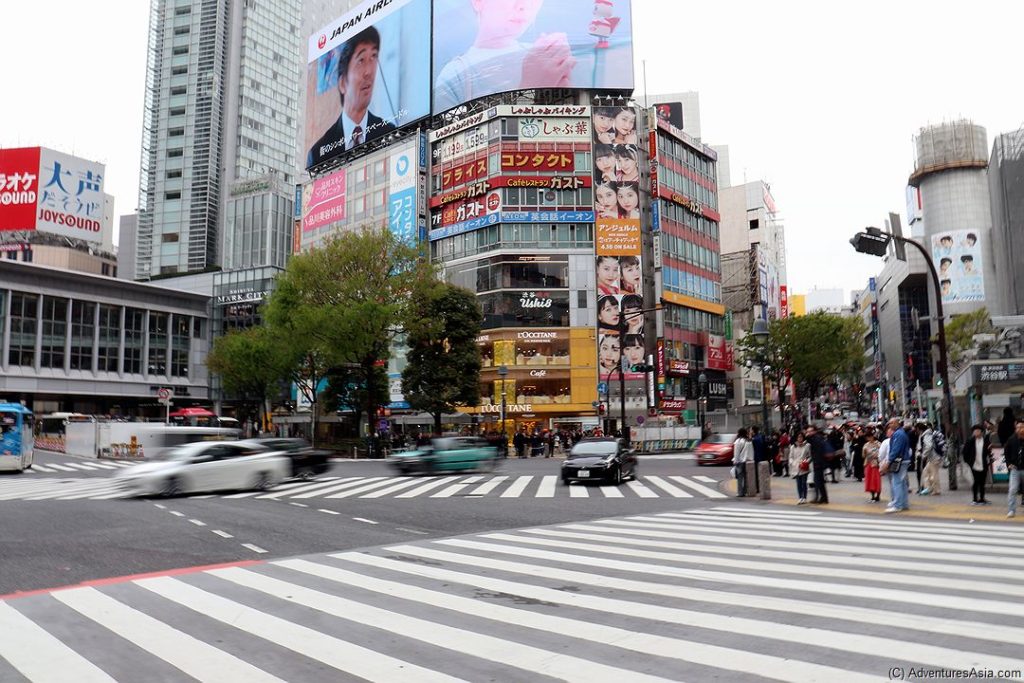 Before the commercial and entertainment center you see at present, the history of Shibuya is interesting. Back in the 11th century, the Shibuya family had a castle established through to the Edo period. Shibuya really came into its own in the late 1880s when it became a railway station and transit hub for all of south Tokyo.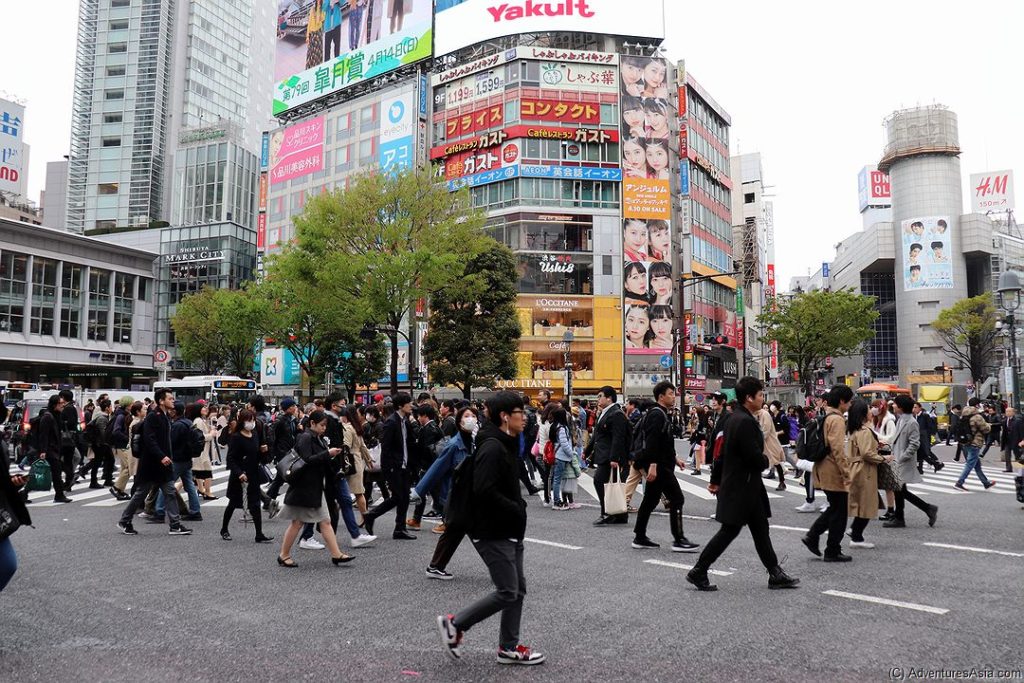 Yoyogi Park
Including the Yoyogi Hachimangu Shrine, you will find Yoyogi park is a refreshing choice away from the busy Shinjuku Gyoen National Garden. Did you know that after World War II it became known as "Washington Heights" for the US military?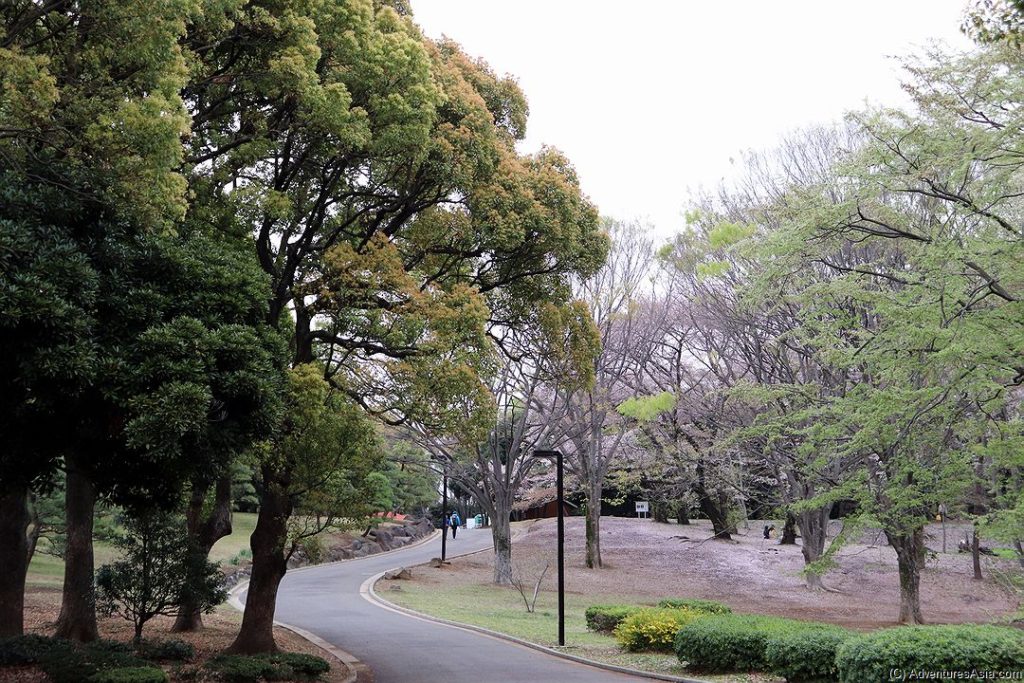 Yoyogi Park was later then used for the Olympic Village for the 1964 Tokyo Olympics. Now, in Spring, it is a popular cherry blossom area and in summer it is popular with local buskers entertaining the public with a wide variety of talent.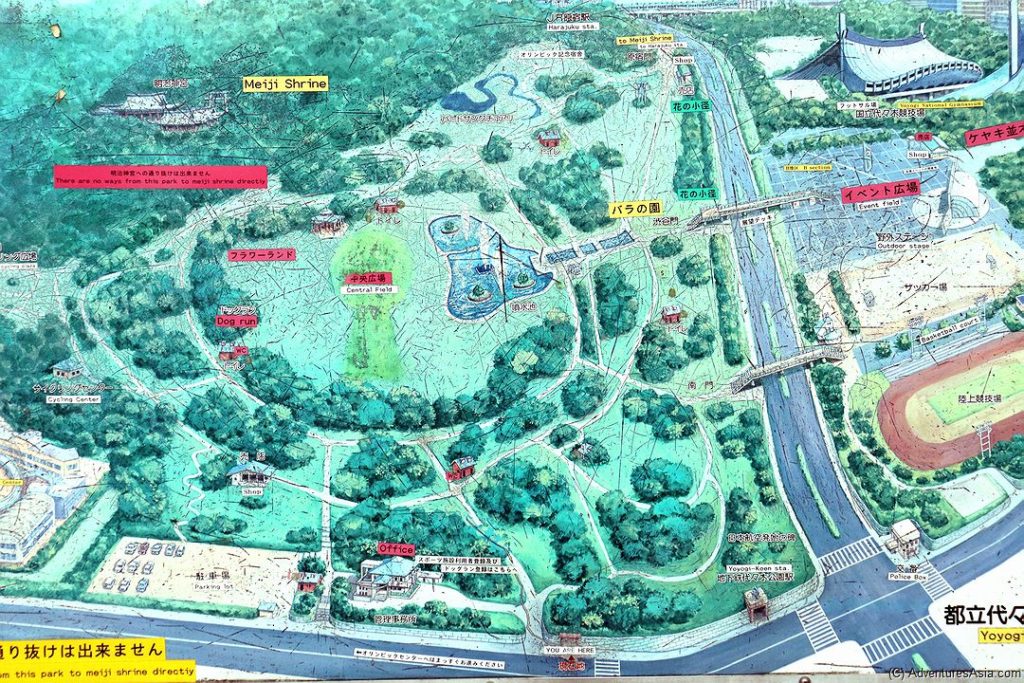 Would I visit here again?
In a heartbeat. I now have favorite attractions, meals, restaurants, and bars I like to visit at least once a year in this area.
Map of the Shinjuku and Shibuya Cities
Full Slideshow