Koh Phi Phi Island is more of a day trip, diving, and party destination now for the under forties. The main island of Koh Phi Phi Don, in Krabi Province, has its main built-up area wedged between the small strip of land on beautiful Ton Sai Bay.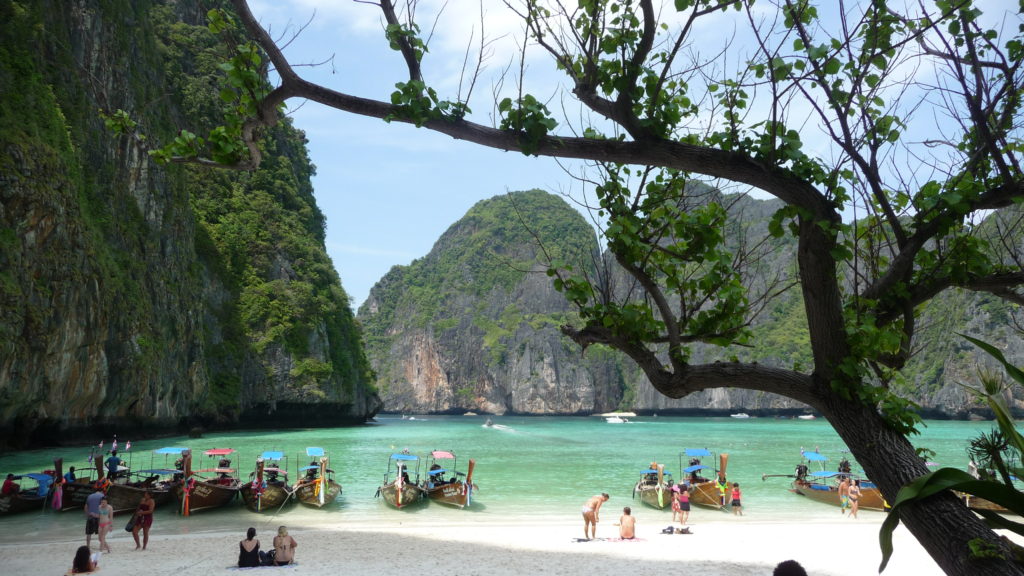 There are no cars, or taxis on the island. Only boat taxis which are just long-tail boats are available to get yourself to and from the distant bays where the resorts are located. Using a taxi boat on personal hire is the best way to view the myriad of bays and beaches dotting the two islands making up Koh Phi Phi.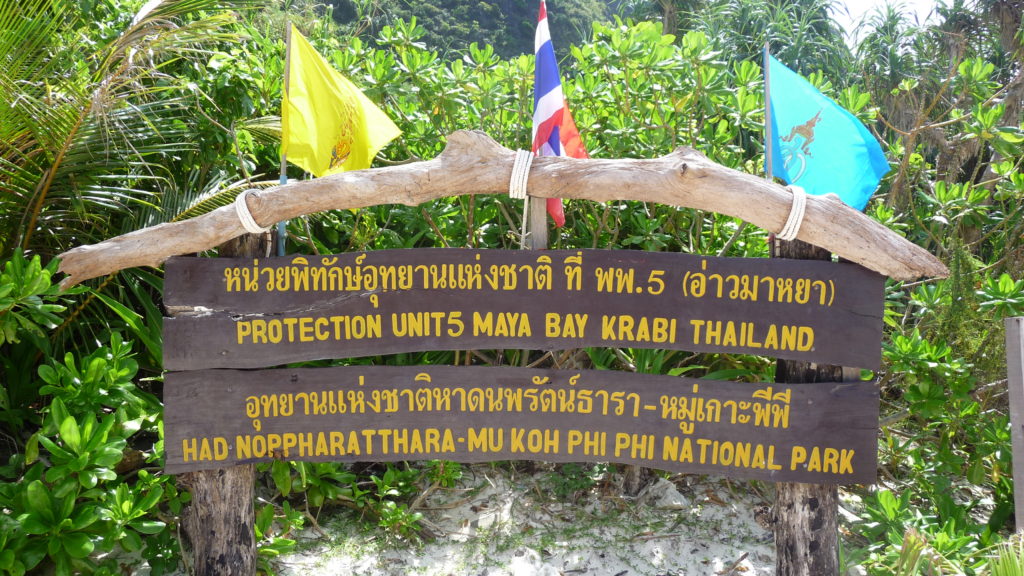 On the southern island of Koh Phi Phi Leh, you will find a less developed island with only a bunch of bungalows available at Maya Bay. Maya Bay is where they filmed the movie 'The Beach'. It is a very popular day trip spot so expect large crowds, but as the beach is quite long it is still relaxing. Koh Phi Phi hotels plus the majority of Koh Phi Phi nightlife is on the north island.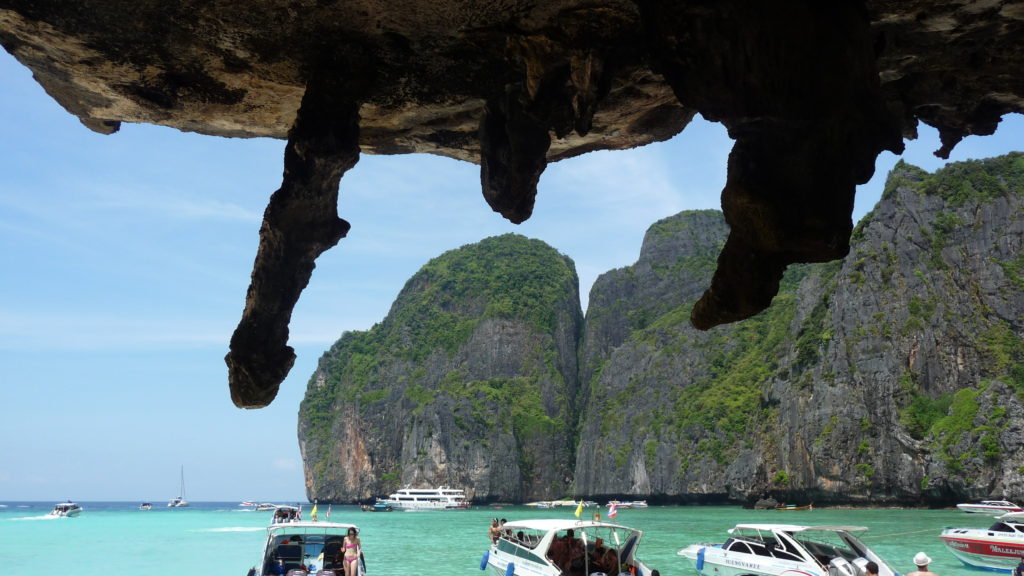 On the way to Maya Bay, you will be taken past a lovely beach ruled by semi-wild monkeys. If you visit in the morning, be sure to stay in the water as the monkeys are very hungry and will do the odd snatch and grab, and may also bite. Also on the way to Maya Bay, you will pass the Viking Cave and the safe snorkeling bay of Pileh.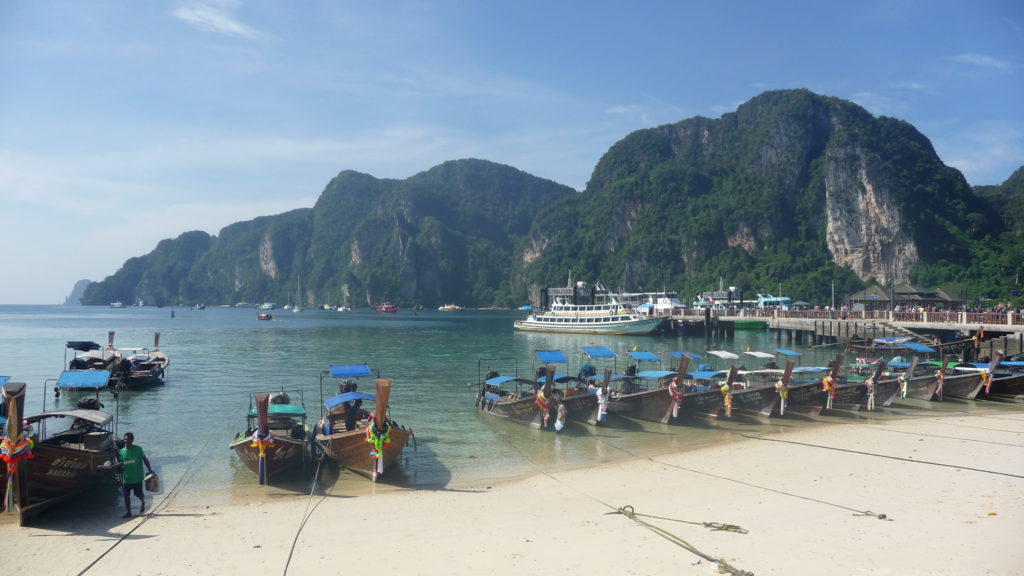 Getting to Koh Phi Phi Thailand is easy from four main points of departure. They are Ao Nang and Krabi Town on the Krabi mainland, Koh Lanta from the south, or the most popular Phuket from the west. Koh Phi Phi to Phuket and Koh Phi Phi to Krabi is about one hour by normal ferry.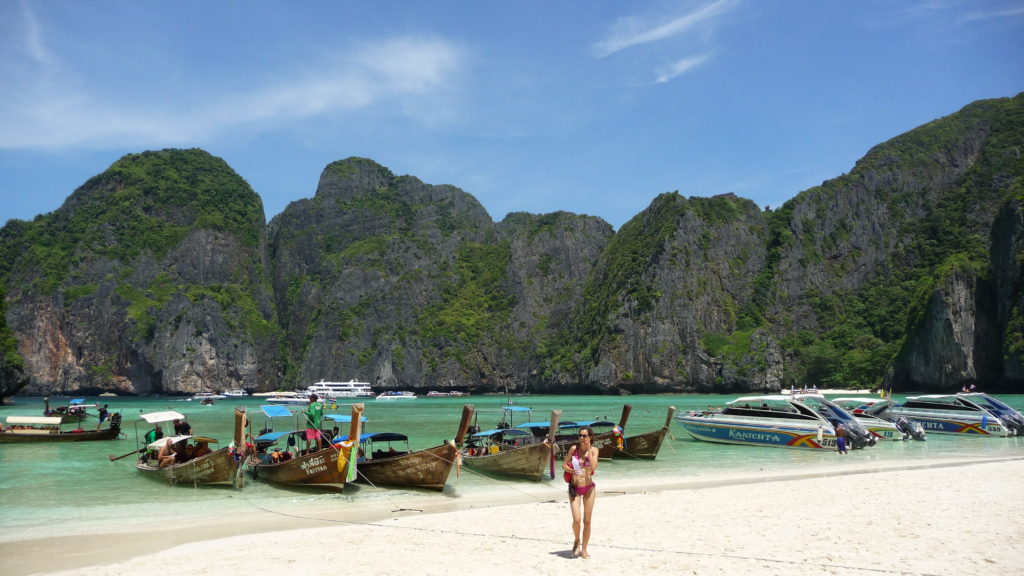 For a more family, relaxing or romantic adventure, be sure to book one of the resorts on the eastern side of the main island where the bays are small and idyllic and far away from the late night music from Ton Sai Bay.
On my last visit, I scheduled to be there for Halloween. It was just one massive party over the whole island. At night you walk from beach disco to beach disco while drinking, swimming, dancing and watching the fire shows.
Would I visit here again?
Yes. I would like to go back for Halloween again but stay at a nicer hotel away from the partying. That way I can get some sleep after the huge night out.